BEST - Bedfordshire Schools Trust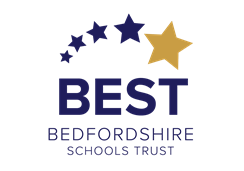 Bedfordshire Schools Trust (BEST)

Gravenhurst Academy is part of the Bedfordshire Schools Trust (BEST), a multi-academy trust providing exceptional education across a community of 10 schools and five nurseries.
BEST offers an extensive range of dedicated shared services in place to support its schools and nurseries. Centralised services include: Finance, Human Resources, Estates Management, Communications and School Improvement.
The trust also has the vibrant BEST Teaching School, which delivers a comprehensive school improvement package to nearly 150 schools across the area, and the Bedfordshire Schools Training Partnership, which provides school-centred initial teacher training (SCITT) courses for both Primary and Secondary phases.
We are a charity by virtue of the fact that we are an academy trust.
Contact Details:
Bedfordshire Schools Trust Limited
BEST House, Shefford Road, Clifton, Shefford, Bedfordshire, SG17 5QS
Telephone: 01462 811519
Email: info@bestacademies.org.uk
Website: www.bestacademies.org.uk
Companies House Registration Number: 07546141
VAT Registration Number: 120 7845 28
The BEST policies can be found here.